Functional sneaker socks with grip for Pilates and Yoga. Available in five mottled colours and two sizes (35-38, 39-42)
Embedded Support
- the Knitido+ concept against foot fatigue
The functional toe socks that give you strength: A reinforced Compression in the metatarsal area supports the foot and all three foot arches.
This gives the foot verve - and you will have significantly less tired feet afterwards.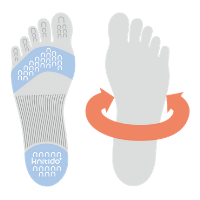 padding at ball and heel continue to enable a well-balanced feeling of balance.
The typical Knitido Plus anti-slip coating on the heel, ball of the foot and toes provide support and enable a secure stand on the mat - or on the floor.
e.g;