Knitido® Asymmetric Compression TS 2.0 : a new compression concept for better blood circulation and greater comfort
Knitido has developed a completely new concept of calf compression for you, which is patent pending: With the asymmetrical pressure distribution you experience the highest comfort with all the advantages of gradual calf compression. The pressure is applied specifically to the calf muscle and is weaker on the front. This stimulates exactly those areas that need it most. The compression on the metatarsus is also stronger on the inside and stabilizes the arch of the foot without unpleasant pressure.
The compression stockings are made of a particularly robust yarn which is also antimicrobial and odour-inhibiting: a strong combination for long endurance, high performance and good moisture management.
Last but not least, the stocking closes with a comfort waistband - so that it doesn't pinch where it shouldn't.
Pressure distribution
Gradual calf compression accelerates venous return in the legs and supports blood circulation. The pressure is gradually distributed over the lower leg and decreases towards the top.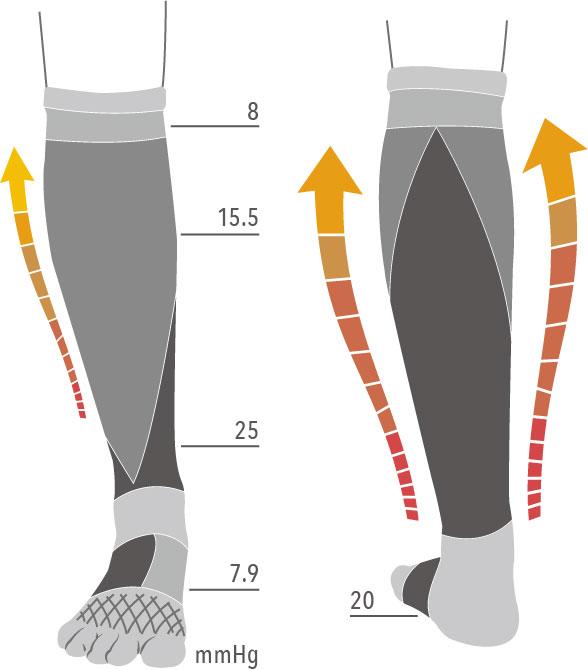 Maximum calf extension
We recommend the following maximum calf circumferences for this model. If you exceed this circumference, we recommend a combination of compression cuffs and toe socks.
| | |
| --- | --- |
| Sock size | Maximum extension of the sock (middle calf) |
| 35-38 | 50 cm |
| 39-42 | 52 cm |
| 43-46 | 54 cm |
The advantages of TS Asymmetric Compression at a glance
Targeted calf compression to promote blood circulation
One-sided arch support against premature fatigue.
Antimicrobial and odour inhibiting
Optimal heat regulation thanks to mesh zone on the forefoot
Avoid blistering, nail separation and blue toes
In-Shoe ABS for strong grip in the shoe
Precise fit
With comfort waistband
Our tip
Why wear it only when running? Try the new Knitido TS Asymmetric Compression stockings also in everyday life, e.g. during a long-distance flight: a benefit for your legs!
Hint:
Due to the in-shoe anti-slip coating these toe socks are not suitable for toe shoes.