Comfy Mask – the truly comfortable mouth and nose cover
Face masks have become part of our everyday life – but they are not at all that comfortable. Sometimes the mask is too loose, sometimes it feels too tight and leaves painful bruises on your face.
At Knitido® we make things differently: your comfort comes first.
Knitido Comfy Mask is our comfortable, reusable mouth cover for everyday use: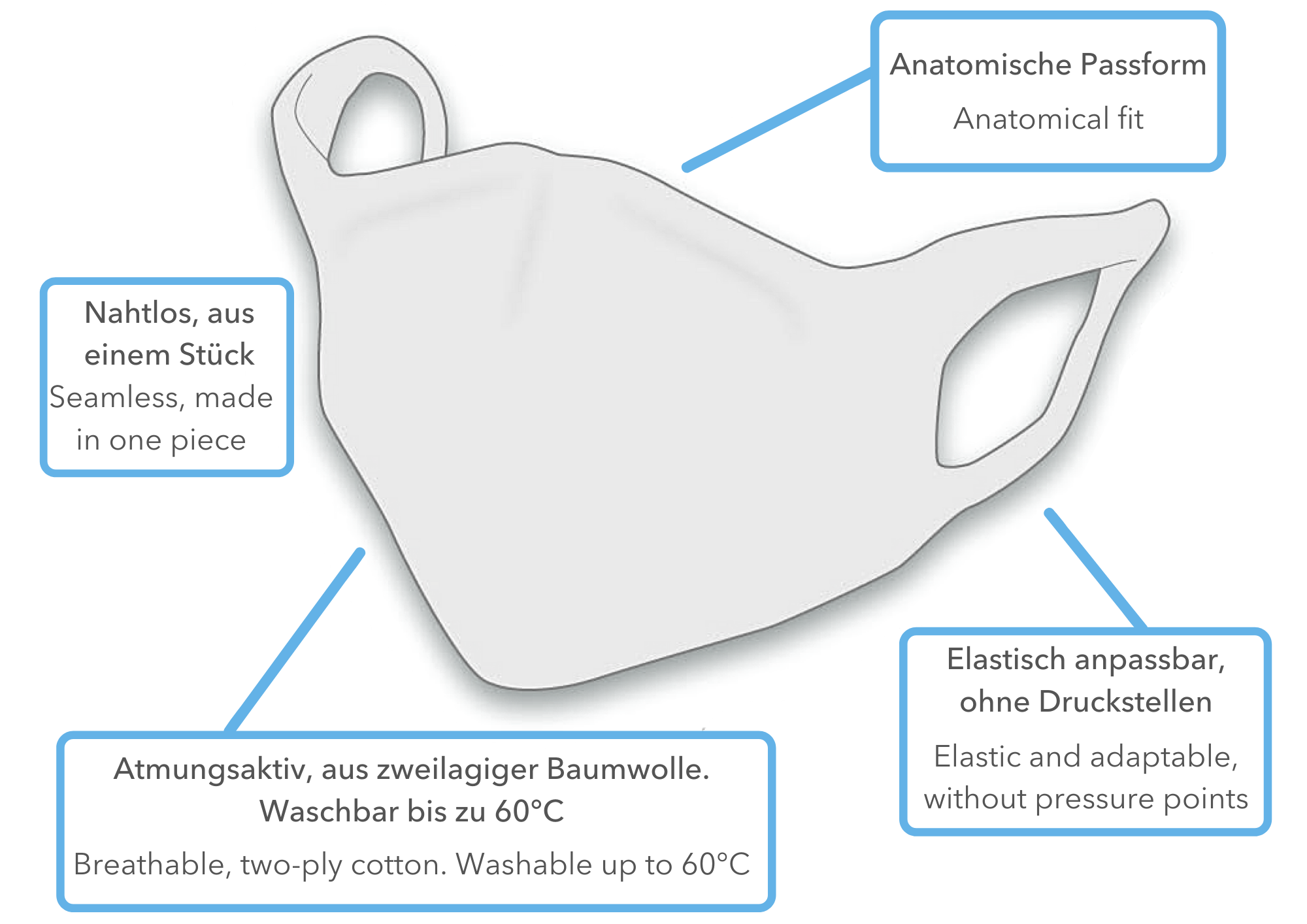 Anatomical fit, that follows the shape of your face.
Elastic, in order to adapt precisely to your face, without leaving marks.
Seamless and knitted in one piece – no pressure, no friction.
Made of soft, breathable cotton.
Two-fold
Washable up to 60°C and reusable.
The mask has an opening for inserting a filter (sold separately).
Knitido Comfy Mask is available in different sizes: M (25cm×12cm) and L (26cm×13cm). You can find the size knitted on the inside of the mask.
How to choose your size
Size M ist our standard size and fits people with an average face size (both men and women). Only choose L if you have a larger face, if you wear a beard or a hearing aid.
Measures
To find out the precise size, use a measuring tape to measure the line earlobe – tip of your nose – earlobe and add 1-2 cm. Then compare the result with following table:
| | | |
| --- | --- | --- |
| | Delivery size | Size when stretched |
| Size M | 25–26,5 cm | 30–35 cm |
| Size L | 26–27,5 cm | 33–38 cm |
The mask is permanently elastic and gets back into shape after you wore it, it does however stay a little larger than upon delivery. The mask does not shrink when washed.
Care instructions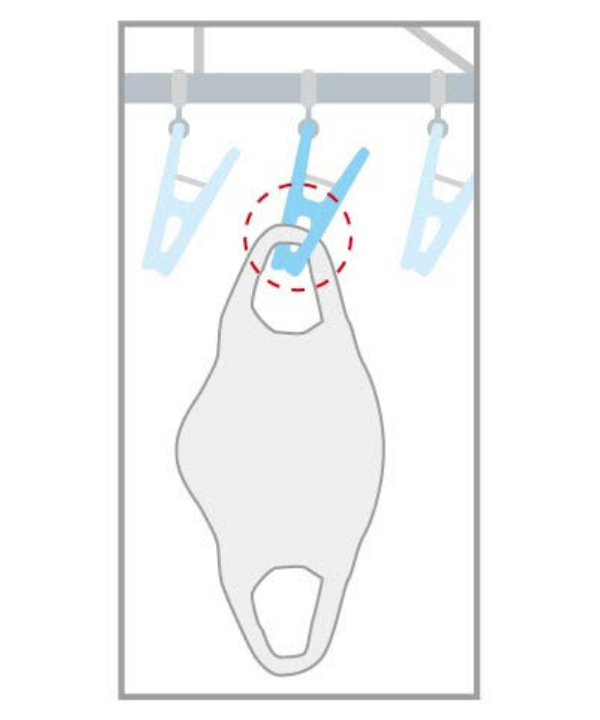 Wash the mouth and nose mask up to 60°C in the washing machine.
Use a neutral detergent.
We recommend using a laundry bag to ensure a long durability.
Do not tumble dry, do not iron, do not dry clean.
To dry your mask, hang it by one of the ear loops. Please avoid pinching the loop with the clothespin (see illustration).
Important information
Please note that Knitido Comfy Mask is only meant for private use. It is not a medical product and is not certified in any other way. Do not use as protective equipment.
Please note following instructions:
Wash your mask after every use.
Wash your hands before putting it on and before taking it off.
If you feel uncomfortable in any way or notice any skin reaction, stop wearing it.
When wearing the mask with glasses, your glasses might steam up. Caution especially when driving.