ATTENTION: The savings packages cannot be combined with other actions.
Two pack - only available for a short time
-----------------------------------------------------------------------------------
The Knitido Marathon TS toe socks - especially developed for sports and long distance running - have been very popular among Japanese marathon runners for many years.
But also in Europe and in the USA more and more running and endurance athletes wear toe socks without or with compression.
MTS Marathon toe socks - your advantages:
The Foot arch support (arch support) in the midfoot area stabilizes the arch and protects the foot muscles against premature fatigue.
The In-Shoe-Grip made of silicone counteracts blistering, blue toenails and nail detachment: The sock can slip more easily in the shoe and therefore reduces annoying friction.
A deep-seated Y-heel provides for the superior fit. It prevents pressure points as the toe socks have fewer wrinkles.
The ergonomic 3D-knit on the toes and the ball of the foot also has a positive effect on the fit and inhibits the formation of wrinkles. The feet and toes can therefore relax more easily and are less likely to become exhausted.
Breathable running socksThe Mesh zone on the back of the foot guarantees high air permeability and facilitates the removal of heat and moisture to the outside.
Last but not least, the toe chambers contribute to a better ventilation of the interdigits and remove foot odour and athlete's foot from the necessary breeding ground to thrive.
MTS Marathon toe socks against premature fatigue
The MTS Marathon toe socks stabilize the arch of the foot and metatarsal bone. They support the foot muscles, make them more powerful and thus prevent the metatarsus from sinking, which can have a negative effect on the rolling motion.
In this way they not only support your feet and legs, but also your back, joints and muscles. You will find that your feet and legs feel fit even after covering long distances and will not become clumsy or heavy.
We can't promise you that you will run faster with MTS toe socks, but you will be less exhausted and more relaxed after long runs than before.
Our recommendation for the summer
For the summer or the hot season we recommend MTS ultralite Marathon toe socks - they are thinner and made of the cooling Coolmax fibre.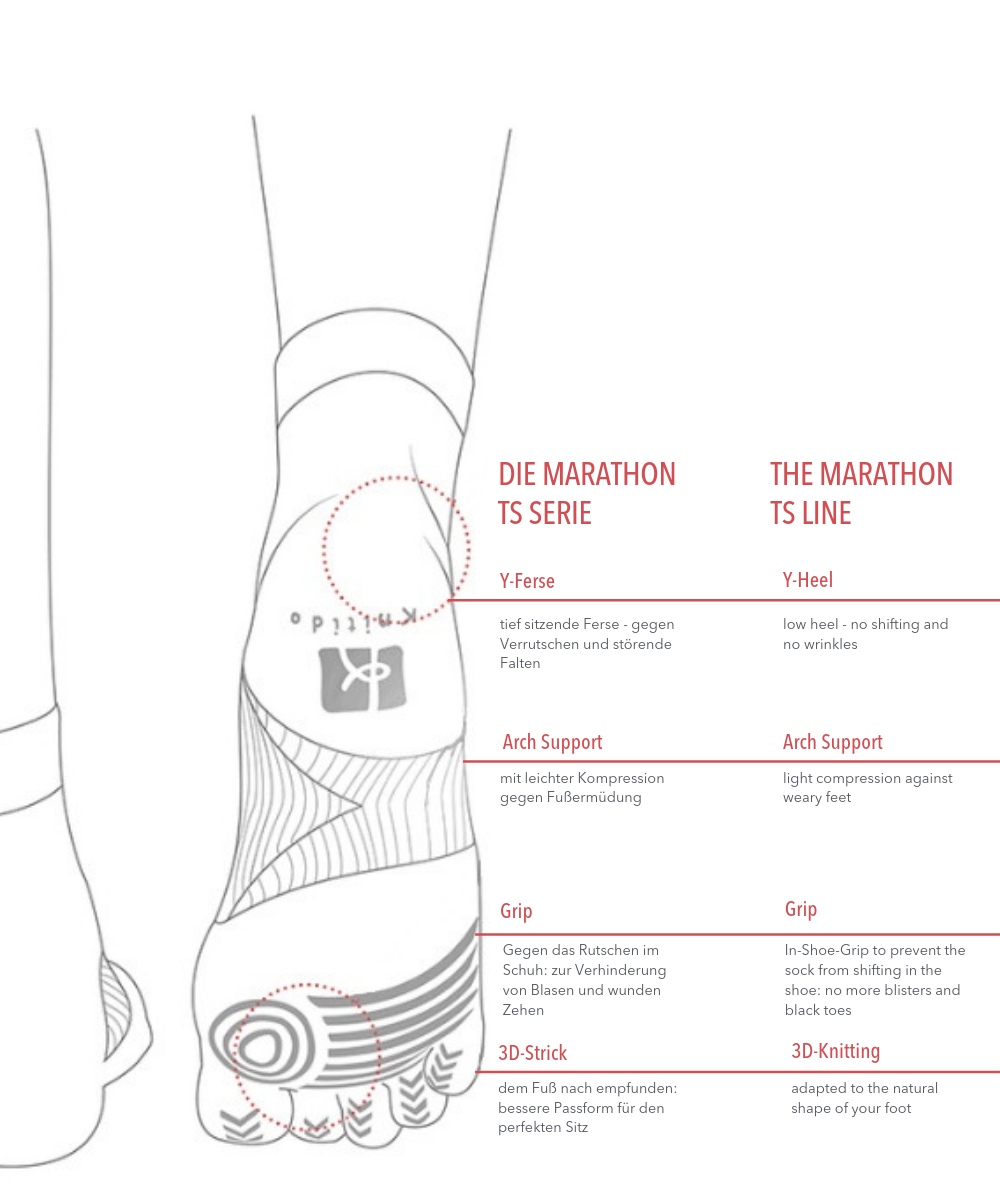 Hint:
Due to the in-shoe anti-slip coating these toe socks are not suitable for toe shoes.