Knitido® Toe socks - Reseller Information
Knitido® – Being moved by what moves our customers - their feet.
At Knitido® we have realized that feet are the base of our mobility. That's why we find it important to value our feet and treat them well. It's hard to imagine life without well functioning feet, as we take them for granted. You only realise how important they once they don't "perform" as well as they used to.
To protect our feet from environmental influences we wear shoes and socks. There is nothing wrong with that, as long as they don't squeeze our feet into one stiff shape. If they do, however, they have a continuously negative impact on bones, joints, muscles and sinews. The right choice of shoes – with plenty of room for your toes – is essential for keeping your feet healthy. And it is just as important to choose the right socks.
Knitido® toe socks - almost like being barefoot.
The Knitido® team believes: the less our feet have to adapt to the shape of footwear and socks the longer they stay healthy, sensitive and intact. We know the key to keeping your feet healthy is to suit the footwear to the needs of the foot, not vice versa.
This is why since 1981 we have been developing socks based of the shape of human feet. Only this way the foot can keep its natural shape and avoid constrictions and tensions that on the long run would cause irreparable and degenerative damage.
You'll notice the difference: from the unique feeling when wearing the socks for the first time up to being proud if later in life you still can call a pair of healthy feet your own.
Become a Knitido® trading partner – this is how we support you:
Choosing the precisely right products for your customers is key to your success. We are happy to help you find out what your ideal starter package should look like.
For your marketing efforts we offer:
high resolution pictures for your own print ads or your online shop free of charge
foot dummies fee-based
print materials free of charge
as well as a personal contact person to answer your questions
Minimise your stockpiling risk with our flexible logistic.
We are aware that selling new products can be fraught with risk - what if the articles don't sell? The solution is to use our flexible logistic! We offer:
highly flexible purchase quantities - no bulk packs. You order only what you really need.
No minimum order quantity - it's up to you if you order 1, 100 or 10.000 pairs of socks.
monthly subsequent deliveries from our own production in Wakayama, Japan
Knitido® toe socks - which businesses benefit from our products?
Knitido® is a premium toe socks brand, which stands out from other makers because of its patent registered manufacturing methods, quality and variety.We want to support our customers to keep healthy feet.
We are looking for business partners who are prepared to present our products in a high - quality way and sell them out of belief.
The latest catalog edition Spring/Summer 2020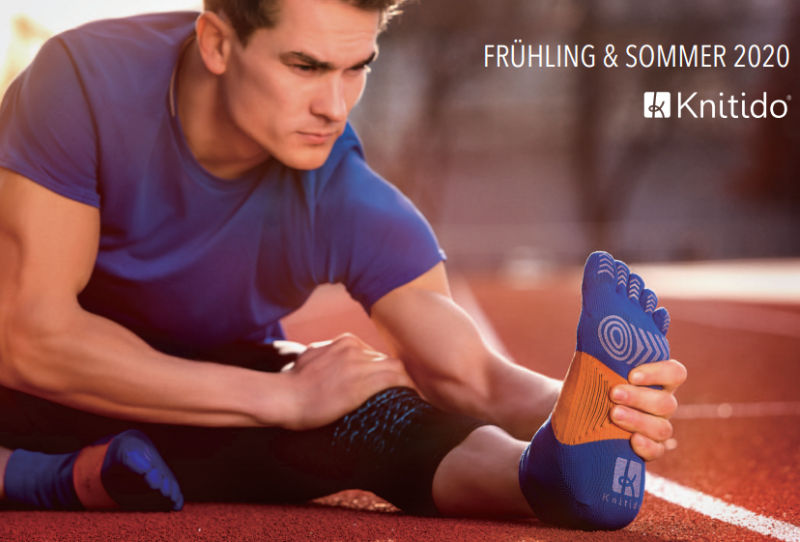 What we expect from our partners:?
No sale on Amazon.
Respecting our trademark rights. Knitido® toe socks may only be sold on our brand- and product names.
What we don't offer:
Toe socks production for your own private label.
Individualisation (embroidery, altered toe size etc.)
If you like what you learned about Knitido, please contact us! We're looking forward to meeting you.
You're personal contact person:
Carsten Hankel
Management & Sales
Tel.: +49 (0)30 - 66 40 93 01
Fax.: +49 (0)30 - 66 40 92 99
e-mail: b2b [at] knitido.de
International Customer Support & Order Management
Tel.: +49 (0)30 - 66 40 93 00
Fax.: +49 (0)30 - 66 40 92 99
Mail: b2b [at] knitido.de